Definition: Amen; amen; Amun
Nehemiah 8:6
And Ezra blessed the LORD, the great God. And all the people answered, Amen, Amen, with lifting up their hands: and they bowed their heads, and worshipped the LORD with their faces to the ground.
Psalm 41:13
Blessed be the LORD God of Israel from everlasting, and to everlasting. Amen, and Amen.
Psalm 72:19
And blessed be his glorious name for ever: and let the whole earth be filled with his glory; Amen, and Amen.
Psalm 89:52
Blessed be the LORD for evermore. Amen, and Amen.
Psalm 106:48
Blessed be the LORD God of Israel from everlasting to everlasting: and let all the people say, Amen. Praise ye the LORD.
Matthew 6:13
And lead us not into temptation, but deliver us from evil: For thine is the kingdom, and the power, and the glory, forever. Amen.
(Ref) KJV
Definition of amen
Used to express solemn ratification (as of an expression of faith) or hearty approval (as of an assertion)
Origin of amen
Middle English, from Old English, from Late Latin, from Greek amēn, from Hebrew amen (see Amen / Amun)
First Known Use: before 12th century (Ref. merriam-webster)
Exodus 1:5
And all the souls that came out of the loins of Jacob were seventy souls: for Joseph was in Egypt already.
Exodus 3:8
And I am come down to deliver them out of the hand of the Egyptians, and to bring them up out of that land unto a good land and a large, unto a land flowing with milk and honey; unto the place of the Canaanites, and the Hittites, and the Amorites, and the Perizzites, and the Hivites, and the Jebusites.
(Ref) KJV
Amen /Amun
In Egyptian mythology, Amun was a very powerful god. He was often combined with Ra to form the god Amun-Ra. At one point in Egyptian history, he was called the "King of the Gods". ( godhead bodily / pines)
Amun (also spelled Amon, Amoun, Amen, and rarely Imen, Greek Αμμον Ammon, and Άμμον Hammon, Egyptian Yamanu) was the name of a deity, in Egyptian mythology, who became one of the most important deities in Ancient Egypt. (Associated with life and reproduction)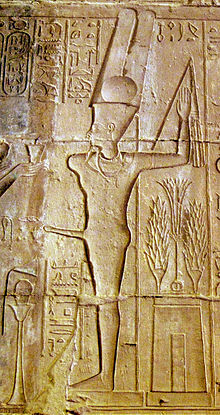 Amun / Amon / Amen
Ra is the god of the sun and creation. Ra's name came from Re and Amen. The name Re was from Upper Egypt and the name Amen came from Lower Egypt. When Upper and Lower Egypt came together they changed the name to Amen-Re. Over thousands of years the name Amen-Re evolved into Amen-Ra and then just to Ra. From then on people called him Re or Ra. Ra used to mean "mouth" in the Egyptian Language. Some names are: Re, the Creator, Khepry, etc.
(Ref) Wikipedia
And all His/his children said (Amun / Amon / Amen )
For I am that, I am A man.
I PETER CHAPTER 2
13 ¶ Submit yourselves to every ordinance of man for the Lord's sake: whether it be to the king, as supreme; (sup creame)
17 Honour all men. Love the brotherhood. Fear God. Honour the king.
20 For what glory is it, if, when ye be buffeted for your faults, ye shall take it patiently? but if, when ye do well, and suffer for it, ye take it patiently, this is acceptable with God.
HEBREWS CHAPTER 2
14 ¶ Forasmuch then as the children are partakers of flesh and blood, he also himself likewise took part of the same; that through death he might destroy him that had the power of death, that is, the devil;
REVELATION CHAPTER 22
17 And the Spirit and the bride say, Come. And let him that heareth say, Come. And let him that is athirst come. And whosoever will, let him take the water of life freely.
20 ¶ He which testifieth these things saith, Surely I come quickly. Amen. Even so, come, Lord Jesus.
Deuteronomy 8:3
So He humbled you, allowed you to hunger, and fed you with manna which you did not know nor did your fathers know, that He might make you know that man shall not live by bread alone; but man lives by every word that proceeds from the mouth of the LORD.
1 Chronicles 16:12
Remember His marvelous works which He has done, His wonders, and the judgments of His mouth.
Nehemiah 9:20
You also gave Your good Spirit to instruct them, And did not withhold Your manna from their mouth, And gave them water for their thirst.
9 That if thou shalt confess with thy mouth the Lord Jesus, and shalt believe in thine heart that God hath raised him from the dead, thou shalt be saved.
10 For with the heart man believeth unto righteousness; and with the mouth confession is made unto salvation.
(Ref) KJV
<![if !supportLineBreakNewLine]>
<![endif]>